Boat Rental In Greece | Monohull or Catamaran, Sailing in Blues Thoughts
What yacht to charter for my sailing holidays in Greece ?

VS
Generally speaking, a cruising catamaran has more interior volume and better offwind speed potential than a monohull of similar size.
On the other hand, many cruising monohulls have superior upwind performance. Monohulls heel. Cats don't-a selling point for many people. Many catamarans are shoal-water friendly, while most monohulls are constricted by deeper draft.
A monohull will tell you through excessive heeling and weather helm that it's overcanvased and will provide a sensation of acceleration, while some cats give this information only through the instruments.
Many cruising cats have a bridgedeck saloon that's directly connected with the action in the cockpit, monohulls have accommodations inside the hull. The helm stations on some cats have visibility issues; most monohull helm stations have excellent visibility.
Cats havewide, flat decks and seem to have unlimited deck space; by comparison, a monohull's deck space is more limited.
COMPARING THE SIZE OF CATS AND MONOHULLS: A catamaran has about the volume of a 10' longer monohull i.e. a 42' Catamaran has about the space of a 52' monohull.
A refinement. Especially if you're considering load-carrying capability, for a monohull: subtract the ballast figure, plus about 15% of the total displacement (to allow for heavier rig and structure to carry the keel loads) and then look at Cats in the same displacement range as the result. Now you're comparing apples to apples!
The cat has more deck space forward and is better suited to shoal-water cruising.
The monohull has better windward performance and more headroom in the saloon. The visibility from the monohull's cockpit is great, but you can be better protected from the elements in the cat's cockpit.
The cat has a bigger galley, more stowage, and may be better suited to living aboard The monohull has a sit-down nav station and could easily find competition on a race course.
Advantages of a Catamaran:
A catamaran allows you to approach the coast very close and anchor in shallow waters, small coves and hidden places which is unlike for all conventional sailing yachts with a keel

A catamaran has an increased sailing stability (and sense of security) because of its extended beam / width

The catamaran glides on the sea (does not sail in a rocking motion) which can -sometimes- prevent motion sickness of the people onboard

The multi-hull catamaran with its twin engines makes manoeuvres in ports easier (for the experienced skippers) and its smaller draft makes it faster under sails (maybe not when sailing upwind) or power

There is relatively more space and headroom in the cabins of a catamaran (beds are longer and wider), and the saloon and the galley are on the same level with the cockpit which offers panoramic view, eases the access inside and abolishes the old fatiguing steps of a sailing boat

The remote cabins of a catamaran offer more privacy to the guests and the big deck space will prompt anyone to unwind and relax

The catamarans of 41 feet or more carry the dinghy and outboard engine on davits, which makes lifting and launching the rubber boat a lot easier.
Advantages ofa Monohull:
Tacks easily. The combination of weight with a homogeneous, relatively concentrated mass and with a keel to pivot on-this contributes to easy tacking.

Goes upwind well. Ask to see polars. These revealing charts show the actual VMG of different boats under a variety of conditions with various angles to the wind. A demo sail by itself proves little. Anything compared to nothing is still nothing! You need to sail along side the boat you're comparing. You need two competent skippers and a bench mark boat. If you can't do that, get the polars!

Large load carrying capacity. Adding a significant amount of weight to an already relatively heavy boat with a sail plan large enough to power this weight is relatively insignificant. (2000# added to a 40,000 # boat is only a 5% increase.) A side benefit? Relatively lower tech construction methods that are less expensive can be used because weight isn't as critical. These are proven methods, which appeal to our conservative nature. Choosing your monohull is like choosing your car. If you 're choosing a vehicle to go cross country, towing a trailer with amenities, you choose a big, rugged, 4 WD, heavy vehicle. For in town, something small and light and easy to handle. No one boat does it all, monohull or multihull. You have to decide on your priorities.

Traditional good looks. Resale value. Appeals to the traditionalist, though some of the latest crop of monohulls could leave you wondering. There are more people that identify with monohulls and more of a mass market. Multihullers are making progress. This has been the fastest growing segment of the sailboat market for the last couple of years. If you've been to a major boat show lately-you know.
Motion comfort. The concentration of mass, and relatively smooth hull sections (with a fairly deep, slack bilge section-we're talking about cruising boats here!) promote a comfortable motion at sea. By depending on ballast, not just form stability, you achieve a degree of motion comfort that many people are used to.
DISADVANTAGES OF A CATAMARAN: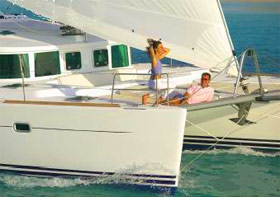 Due to its size, a catamaran occupies two berths instead of one and then it is difficult to find room to moor the yacht in Greece during summertime.

A catamaran does not lean and consequently does not warn the skipper to reduce sail area which can at least result to a ripped sail and when the sails are reefed to ensure safety and prevent capsizing then the performance is affected

There are less catamarans and less types of multi-hulls in Greece to choose from (compared to mono hulls), which limits options and leads to higher rental prices of charter catamarans in Greece.

Catamarans during upwind sailing, they cannot point as high as the mono-hulls do and they are difficult to tack, meaning they sail slower in the quickly changing winds of the Greek islands.

The multi hulls having a small or no keel and large side surface, are significantly drifting leeway and once there is wind they require real experience from the captain to make the correct maneuver and lift / drop anchor in ports without damaging other yachts nearby or stow / block its anchor in one of the two hulls.

It is believed that the uncomfortable motion and behavior of a catamaran is not easy to acquaint because of the short waves of the Greek seas and the two remote hulls that create an irregular movement to the vessel.
DISADVANTAGES OF A MONOHULL:
They heel. It's true. However, modern sail handling options such as in-mast furling allow you to control the amount of heel by easily adjusting and balancing the sail area all from the cockpit.

The rig is larger. In order to maintain performance with this heavier displacement, we need to have a bigger rig to supply power in lighter airs. This makes it more difficult for a couple to handle. Again, with modern equipment, electric winches, in-mast furling, etc. even the frailest of couples can handle a 50+ footer today. Truly, the age of push button sailing has arrived. (At the end of this presentation, take our test to see what kind of power aids you might need.) In the end, it all becomes a trade off of money for ease of handling and convenience-has it ever been otherwise?
Volume vs length? Displacement is the measure of volume. Longer length gives you more motion comfort, in general. You can have a short, heavy fat boat with the same volume as a long, narrow lighter boat and both may have similar volume, though the prices may be similar. I can assure you, though, that the longer, lighter boat will sail better and have a more comfortable motion. The days of the old heavy designs built in Taiwan or elsewhere are slowly drawing to a close with lots of kicking and screaming going on. However the obvious superiority of the more moderate displacement boats coupled with lighter weight amenities benefits both monohulls and catamarans! Remember, we're talking about boats designed for motion, sailing and live aboard comfort for a couple-not a cast of thousands.
Safety. Now we've opened Pandora's box!. If a monohull has its hull seriously compromised, (that's slick talk for ...gets a big hole in it) it will sink. While we could write a book on this, we don't need to. Several others already have. People who have spent time in life rafts and people who have limped home with jury-rigged repairs. Let's just say that getting a hole in your boat can definitely ruin your cruise no matter what kind of a boat you're sailing. All any of us can do is be prepared. There's more on this subject at the end of this...
First time sailing with a catamaran in Greece?
If you are a monohull sailor and you have already booked or intend to book a charter cruise with a catamaran in the Greek islands we have prepared a brief guide, with all you need to know.
Mooring / docking / anchoring
To find a place to moor your wide yacht you will have to enter a Greek island's port between 14.00 h and 15.30h. It will be a surprise if you find space later than that - especially in July and August at the peak of the charter season.
Take a very good care of the mooring lines and all kinds of ropes that float near your catamaran as you steer or move backwards during mooring. It is very easy for a catamaran to catch a rope to the propeller (most times a serious damage will be made)
A catamaran offering just a little resistance to the water than a monohull, it takes more time to slow down than a monohull. So make sure you control the boat till it has completely stopped and do not let the boat slip sideways.
Like in all ports in Greece many ferries, hydrofoils, big and fast vessels passing by can create big waves that hill smash your yacht's stern to the dock. To prevent so, drop as much chain as you can and leave as much distance as you can from the quay.
When it is windy, you should keep the boat straight into the wind, using the engines at idle speed. Drop the anchor promptly, and ss soon as you feel the anchor holds good, back the boat straight with both engines in the most short, fast and accurate moves you can. Is important you do it all quite quickly and with much confidence that the catamaran will retain the line you have initially put.
If you choose to use a mooring line, you certainly need to set a bridle. Do not secure the mooring line only on one hull of the yacht.
Under Power
A catamaran having TWO engines, one in each hull located far apart from each other makes handling and maneuvering very easy - for many much easier than a single engine sailing yacht. A multi hull can literally pivot around its vertical axis.
To go forward in straight line: Put both engines forward - wheel centered.
To go back in straight line: Put both engines back - wheel centered.
To steer to starboard: Put PORT engine forward, STARBOARD engine back - wheel centered or a little to starboard.
To steer to port: Put STARBOARD engine forward, PORT engine back - wheel centered or a little to port.
Under Sail
| | |
| --- | --- |
| Most catamarans do not go upwind that close as monohulls, although there has much improvement lately. You won't get much closer than 45/50 degrees to the wind, going upwind. If the sea is choppy and you are on a cat 38ft long, the yawing will be a little difficult. If you still decide to sail, bearing off a couple of degrees will simplify things. To prevent drifting leeway you must put only the leeward engine at about 1400 Rpm. Going off the wind is what the cats love more. Do not necessarily try to go dead downwind, but if you select so, you better stay under jib or genoa only. A more efficient point of sail is between 120 and 150 degrees at which you should sail at a speed of about 45% of the true wind. No doubt, you will enjoy "overtaking" all monohulls around. Distances between the Greek islands are too short and you should not feel you are out of your planned route. Let your catamaran sailing at the angle it prefers, and remember there is always a nice beach to swim just a couple of miles away from the port you were to point. After all, this is one thing in Greece that makes the place a sailing paradise | |
| | |
| --- | --- |
| | One problem of the catamarans is that they do not heel to give the signal to reef the sails. When it becomes very windy, things can become a little tricky. When emergency, start decreasing sail area by using the sheet and traveler of the main sail - this one will only be done very quickly. Other than that, usually, on a 38-40ft catamaran, you should put the first reef at around 18-19 knots of wind, and the 2nd reef at 23-24 knots of wind. If you want to stay on the safe side of sailing then the genoa should be completely furled-in. Reefing the sails is no different than the procedure followed for a monohull keeled sailing yacht. Tacking a catamaran is a little different than in a monohull: A big difference is that without sufficient speed, tack is almost impossible... unless you put the engine on. Gain enough speed, start bringing the main sail in close, tack the boat little by little through the wind to keep the speed. In order to help the bows turn better through the wind, loosen the genoa sheet before firming it to the other tack side. Once the bows of the catamaran are on the other side of the wind, take out of mind your desired course until you recover your original speed. Adjust bearing course after your speed is re-established. |
The bottom line is:
What do you want your cruising boat to do for you? If you're looking for a thin-water-friendly, level-sailing cruiser with loads of deck space, comfortable cabins, copious stowage, and a saloon with 360-degree visibility that connects directly to the cockpit, a cruising catamaran is for you.
If you're looking for a traditional cruising boat with comfortable accommodations-and if windward performance is more important to you than a 360-degree view from a bridgedeck saloon-a monohull will be your best choice.
Check our Fleet and their prices, by clicking on the desired yacht carter category...