See what our clients wrote about us and their sailing impressions of Greece…
July 2021
There are dozens of charter opportunities in Greece. What makes SiB best choice is that they provide
EXPERIENCE. Chartering a boat is only the first step of having great time. What is equally important is that there is always somebody who keeps working in the background and supports your stay from the first to the last day. That starts with fitting a boat to your expectations (often on a short notice), having transfer waiting for you at and to the airport, being flexible with arrangements, getting you shopping delivered to the boat just after you arrive. Being always nice, patient and approachable. It feels like dealing with the best friends. That marks my over 20 years experience with SiB. Thank you again and see you next year 😍!
Jacek & crew
2009-2021
We first chartered with Sailing in Blue in 2009, then every year except two until 2018. Eight charters totaling 67 weeks. We chartered out of Lefkas, Athens and Rhodes Sailing the Ionian sea from Erikousa to Cape Maleas. The Gulf of Patras and Corinth through the Canal. From Cape Maleas to the ArgoSaronic Gulfs then to Evia, the Northern Sporades, Khalkidiki and Limnos. From Athens to the Cyclades and the Dodecanese. Our charters total about 9500 nautical miles in Greek waters. We have had exceptional service from the people of Sailing in Blue; Vangelis, the wonderful Georgia and ever helpful Yannis in Lefkas, their contacts throughout Greece; Christo in Athens, Fotis in Rhodes, Minas in Skiathos and many others throughout Greece that came to our assistance when ever we had problems. Sailing in Blue became our very trusted partner facilitating our enjoyment of sailing in Greece and recognizing the beauty of its people and places. We will always be grateful for this relationship. We are ever hopeful that we may once more return to Greece, but if not we wish Sailing in Blue a prosperous future for they have, liked us many satisfied clients.
Neil & Yvonne

May -June, 5 weeks
Georgia, (Sailing in blue),
Check out with Jannis went smoothly.
Thank you so much for helping making our experience easy. You two have been an incredible support team
Thank you for helping our holiday be great! If SIB wants a testimonial or photos, please let us know!
Thank you!
Jenny & Rachel
May 2016
Hi my dear Georgia! (sailing in blue team).
Everything was OK! Dimitry is very well organize guy. The boat was new and any systems worked perfektly.
We have a realy nice trip.
Thank you again for everything. I will send you pictures 🙂
kisses
Pavel
May 2016
Dear Georgia, (Sailing in Blue)
Many thanks for the yacht we chartered. The boat was in very good condition and the service we received by Yannis was first class.
Hope to charter again next year.
Regards
Mike
May 2016
Dear Sailing in Blue Team,
Recently we've have back from our trip on yachts, Kos, Greece.
We would like to THANK YOU for everything. The service is excellent.
Especially, many thanks to our chartered manager Georgia for great support, even out of work hours.
Iryna
August 2015
Kαλησπέρα Γεωργία,
Όλα ήταν πραγματικά τέλεια. Μια ανεπανάληπτη και αξέχαστη εμπειρία η οποία έθεσε το πήχη πολύ ψηλά για το μέλλον. Κάποια μικροθέματα με την ντίζα πριν από την αναχώρηση ρυθμίστηκαν αμέσως. Πολύ καλή εξυπηρέτηση και άψογη συνεννόηση.
Σε ευχαριστώ για το ενδιαφέρον.
Θα τα ξαναπούμε στο μέλλον.
Γιώργος
May 2015
Hello Georgia! (SIB),
Well we are all back home now in Canada and the USA L. We had a fabulous time in Greece and we all thank you very much for your great service and for the beautiful new boat you assigned to us. In Italy we had a much older boat which was tough to get used to after the one from Sailing In Blue! You can count on us coming back again!
I hope your summer season will be busy and with great weather. With summer weather maybe your allergies will finally go away!
Anyway, thanks again. It was a pleasure to work with you. We look forward to another trip with SIB.
Cheers!
Graham Wray
August 2014
Ciao Georgia, ciao Vagelis,
We are back in Italy now and we want to thank you again for your help in finding a boat for us.
Arion was a nice boat and the week was very good: many thanks also to Panos who did the check with us.
I expected many boats around, but not so many! Some of my favourite lonely anchorages are now busy bays but august is like this!!
I still hope to come and have some nice sailing sometime in june……
Sandro and I have decided to learn greek seriously and to start looking around for a place in Greece where to come and live sometime in the future……
Γεια σου
Betta
July 2014
Dear Georgia and Vangelis,
We would like to thank you for another great sailing vacation. This time we sailed in the Cyclades in July and were able to visit several islands as originally planned including Santorini. The Bavaria 41 "Andreas" was a perfect yacht for our 3-week charter. We especially want to thank Georgia for smoothly arranging everything in Athens. Thank you and we are planning to come back next year for our third sailing vacation with Sailing in Blue.
Andrew and Mila
Canada
August 2014
Dear Vangelis, Pepos and Georgia
We had a great time sailing in Greece. The Yacht Dufour 445 Explosion was perfect, we enjoyed especially the battened main sail.
As You can see in the attached chart, our 3 week tour went from Kos – Nisyros – Astypalaia – Anaphi – Santorini – Ios – Schoinousa – Amorgos – Leros – Arki – Samos – Patmos – Archangelos – Kalymnos – Pserimos – Kos.
We had plenty of time to rent scooters and visit the volcanos, monasteries and villages of the Islands. For us three couples the Yacht was perfect.
Many thanks to you all for these wonderful holidays, we are all looking forward to our next sailing tour in beautiful Greece.
We wish you and your families good health, luck and a successful season,
warm regards
Conrad, Erika, Ueli, Trix, Daniel, Lotti, Joerg, Anita
July 2014
Dear Georgia and Vangelis,
I would like to thank you for organizing my charter in the Ionian Sea. It is our forth time with SIB in Greece and we highly appreciate professionally handled and smooth process. The cat was new, well equipped and the service team in Corfu was very helpful and friendly.
Kind regards,
Mariusz
July 2014
Dear Georgia
We have just finished our sailing trip with your boat, Evita. Every thing has been ok, the boat was clean and in perfect order, the organization as always good.
Thank you and congratulation for your job.
All the best
Marco
July 2014
Georgia, Vangelis and Pepos
A quick note to thank you very much for our Kos to Kos charter last week and for cancelling our cleaning costs.
The group (The Vlaka Tribe from Australia) had an amazing time and both Petros and Kostas were excellent as captains.
We have started planning 2016 and we have many friends who are wanting to do a similar journey – I have given them your contact details.
On behalf of the whole team we thank you again
Nicholas Vamvakas
July 2014
Dear Georgia,
We returned smoothly from Athens, and today is the first day back to work..
We had a great trip, thank you for the good organization.
Thank you and best regards from Belgium,
Bruno
October 2013 – Kos
Dear Georgia, Dear Vangelis
Yes, we enjoyed our vacation with sailing in blue a lot.
The staff in Kos was really helpful, very friendly and efficent. The food delivery was perfect, the ship was very clean and the beds were made, when we came on Sunday evening. We never had such great service. The check in was done in no time. The staff member Pedrac from Kos Marina was great.
The ship was much better than Bavaria 42CR of last year, only the main sail and the genua were quite old (the main sail had a cut, which we had to fix) we guess, you will have to change it for the next season.
We explored the north part of the Dodekanes, went up to Pathmos and Lipsi and back to Kos. Everywhere we were greeted with open arms and people are very, very friendly and helpful.
Andreas and myself are thinking of coming back to this area.
Therefor here our question: We would like to charter a ship for 3 weeks again, starting July 6, 2013 (Saturday) and would like to start in Athens and retourn the ship in Rhodos. ………. if you have the capacity for an offer.
Many thanks again and best regards from
Andreas & Silvia
Switzerland
September 2013
Dear Georgia,
I would like to inform you that our stay on the boat Afroditi was without problems and all were satisfied.
Thank you very much for your help. I wish you good business and a lot of clients.
Best Regards
Frantisek
August 2013
Dear Vangelis,
Just to say that we had a fantastic time over the last two weeks on Molly FM, and thank you for finding us such a nice and helpful skipper as Costas. I'm sorry that we didn't see you in Lefkada, but we must make sure we do next year!
Good luck also to Angeliki for her university in Patras.
Best wishes, Julian
JULY 2013
Hello Georgia,
I'd like to express our appreciation for the charter you have provided for us. Spyros is a great boat and it was a perfect fit for the two of us as well as the sailing conditions. Our sailing was trouble free and we have enjoyed the two weeks very much. We will definitely consider SIB next time.
Thank you,
Andrew and Mila
JULY 2013
Hi Georgia
If you remember we chartered a catamaran from 7th July to 14th July from Lefkas with George as our skipper.
I just want to let you know that we had a fantastic time and everybody thought it was the best part of our holiday in Europe.
George was a great skipper who was very sensitive to our needs. If we did a similar trip again then we would definitely want him as our skipper.
It was also good to meet Vangelis on our return to Lefkas and it was very generous of him to pay for our drinks at he the sailing club.
Finally I would like to thank you for your wonderful assistance. All your communications were very professional and extremely helpful.
We have told all our friends about our amazing yachting experience and have recommended your company.
Once again thank you very much.
Regards
Andrew Cass
Athens June 2013
Dear Georgia,
it was definitely a wonderful trip. Petros and Achilles were great and we had a really good time. We will definitely recommed you and who knows, maybe even come back!
Best regards and thanks for everything!
Hug
Athens – May 2013,
Dear Georgia and Vangelis,
Once again I want to thank you for the personal attention, professional service and the nice boat (Molly's) that I had the chance to charter for a month.
I look forward to work together with SIB from now on.
Best regards,
Kancho Shipkov www.moonsailing.com
Kos Sept, 2012
Hi Georgia,
I wanted to let you know that we had an amazing time. The boat was perfect and our captain the best! I will attach a couple photos for Petrous.
Thanks for a great vacation!
Barbara Kaplan -USA
Athens – Cyclades 01-15/09/2012
Hi Georgia,
The trip was simply amazing. I just got back to Sydney yesterday, 24 hour plane trips with 2 young kids aren't fun.
The sailing in Greece was better than anything I could have imagined. We were so happy with the Lagoon cat and you now have a very happy customer. I'll send some photos, you might be able to use them on your website. Our highlight was Folegandos island, what a charming little place.
Everything with the boat was amazing. For a charter yacht it was very very well kept and the equipment was all great. I've been trying to work out why that outboard on the tender stopped working then when your engineer investigated it worked perfectly. The night before we travelled to Lavrion I disconnected all the fuel lines and cleaned them out with clean petrol and cleaned the fuel line filter. I'd say that must have fixed it, so sorry for getting your guy out to Lavrion!
Thanks again for all your help. We will be back very soon.
Happy days.
Ben Moir – Australia
Rhodes-Kos, Dodecanese. 08/15/09/2012
Georgia, SIB
Be assured you have a very happy customer. In fact, this yacht was the most enjoyable I have ever chartered. The Lagoon 400 is laid out very well, and all systems, except for the windlass of course, performed perfectly. The yacht was also wonderfully prepared by your staff. Also, I felt we had excellent communications in the many months leading up to the charter, for which I am very grateful. In over 30 years of chartering I have never dealt with a company which was as responsive as you have been: very fast and informative. Should you ever wish a testimonial [or wish to post this one], do not hesitate to call up me.
By the way, it was Diederik Willemsen who initially suggested we sail the Dodecanese, and brought your company to my attention. In the past, I had nearly always dealt with much larger charter companies, but he assured me I would not be sorry for choosing Sailing in Blue. He was absolutely correct! So we are both indebted to Diederik!
Thomas L. Watkins – USA
Lefkas, August 2012
Dear Vangelis,
Yes, our cruise was great!
Assisted by a gentle weather, our family sailed in full comfort around the Northern and Southern Ionian Islands for three weeks, crossing the Lefkas channel four times!
The yacht performed well, its equipment, motor and sails being in very good shape for a five-year-old charter sloop. We felt like four kings in a 42-footer with such gigantic space all for us.
Your man in Lefkas – Iannis – did a very good job with the dinghy outboard, which was serviced in Zakynthos in a matter of three hours from pick-up to delivery.
It going to be hard, but I shall try to resist for the period that separates me from the next sailing vacation!
Cheers.
Julian Vertefeuille -Italy
Lefkas, August 2012,
Geogia, Vangelis,
This was our second experience chartering with SIB. This time out of Lefkada and like the first (out of KOS) it was great. The Oceanis 461 'ANDREAS II' was in very good shape, roomy and clean. Check in and out was smooth and Vangelis happened to be there on both occasions to ensure we were taken care of. Georgia of course took care of all the paperwork and correspondence very promptly and friendly.
I can say that Vangelis will ensure your charter experience will be enjoyable and memorable, he will go the extra mile (nautical or land) to help you out.
Our provided Captain Tilemahos was very professional, providing suggestions and local information and many option on where to go, stay or eat. He had friends to help out in all the places we visited. Seems like he knows all the sailing community on the Ionian !
We will be back for our third SIB charter very soon.
Thanks
Mike K.
Hope thing get better in Greece !
Mike Kontos
Athens – Kalamaki July 2012
Hi Vangelis , ..thank you …. the 'Eleni' was in great shape . Very clean and the sails totally new.
"Vagelis #2" .. is a very nice guy and Georgia was very helpful in getting us away ASAP.
.. We played it safe and just went around the bottom of Aegina , Methona, Old Epidavrous , Korfos etc . I have good friends that have a taverna in Korfos ..so he always treats me like his family.
We had some very fast sailing as we had good wind but no waves . We were doing 7-8 knts much of the time just sailing for fun as it is short distances between the places. Also good meals at good prices as these places are not so busy.
Best regards to you ,
Brian Sidaway, Australia, Hydra Greece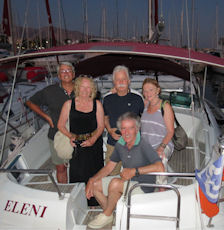 Lefkas June/July 2012
God morning Vangelis
We had a fantastic time sailing and now I maybe can get one more week holiday.
Do you have a spesial price for the bavaria 33 for week 29 or 30 ?
best regards
Per Arne Fossheim – Norway
Rhodes June 2012
Dear Vagelis ,
it was a really nice sailing week again !
Fotis did a good job and THEODOSIA was in very good condition.
I see on your web side that you got a brand new Beneteau Sense 50 . I like this boat very much . Let`s talk about a charter for next year when we meet us in 5 weeks in Levkas . We are looking forward … I hope you will be there .
Warm regards and take care ,
Wulf Gebhard – Germany
Hi Sailing in Blue! Athens – May 2012
Just wanted to say what a great time we had on our trip. I made a video collage with pictures from the trip. Thanks for everything! You were so helpful!! See the video below.
—
Thanks,
Cassandra – Brian U.S.A
Dear Vangelis, Regatta (9 Yachts): Rhodes-Athens May 2012
Once more many thanks for good organization of the boats and the restaurant in Athens, the transfer-bus was perfect in time etc. Especially our American friends were really impressed from this trip.
Erhard Meier
Hohenems, Austria
Many thanks, I wish you a good season and good luck for the big decisions in Greece in the next weeks.
Best greetings to Georgia and many thanks to her too.
Erhard
Dear Sailing in Blue: August 2011,
Unfortunately our vacations are over and we are back again at work. I would like to thank you for the perfect organization. We were very happy with the people in Kos, the woman in the office was very friendly and I would like to mention especially the professionalism and kindness of the man who explained us the details of the yacht, Mr. Predrag . We have no doubt that we will book again with Sailing in Blue!
Best regards from Barcelona, Spain,
Manfred Kravanja
Dear Vangelis and "team SIB", July 2011 – lefkas.
We had a great sail on Molly's, (Oceanis 461)
A very happy crew. We had some very good sails, from Sivota out to Atoko then Atoko to Ithaca. A great sail ,very reefed down , from Fiskardo to Meganisi ( 5-6 B) then on the last day we played around sailing near Paliaros and the beaches before the Lefkada channel.
On Kefalonia we took a day to visit some new wineries ,which is the first time I have done that. It was a nice side trip. Some good dinners in Sami and Fiskardo.
I would like to thank Georgia in your office for her paper work preparation ..and a big thanks to Yannis in Lefkada for a fast 'check in' and a fast 'check out' so that we were on the road back to Athens by 9:00 am . ( We did the re fuel on Friday night and had our bags on the quay by 7:30 am next morning ).
Molly's was in fine condition. Very good sails ( almost new I think ) and the new salon covers are very smart. A good colour. Under sail we were never overtaken 🙂
Best regards to SIB,
Capt Brian Sidaway
Dear Georgia, June 2011 -Rhodes, Cyclades 43,4
My sailing cruise is been wonderfull. I'm fully satisfied so i hope to repeat again for the next year maybe from Athens. My comments are only positive and all you are very nice person. Fotis is been lovely. I have invited him to spend some days at my home but naturally is for you too. l'll be very happy if you decide to be my guest in Sardinia. I think to have left the boat o.k. if you have found something not o.k. please let me know. I remain at your disposal.
Best regards,
Massimo Loche
Italy
Sept, 2011,
"Sailing in Blue is one of the best charter boat companies in terms of the range of options available, boat selection, and attention to details in terms of planning your trip. We sailed on a 36′ Bavaria with another couple and Zanis, our skipper, who was absolutely superb. He was an expert sailor, knew the Cyclade Islands very well, and offered us a number of options in terms of our itinerary.
We had to adjust our original itineray that included some of the more southerly Cyclades due to high northerly winds that meant if we went too far south it would have been hard to get back to Alimos (the port for charters outside Athens). As experienced sailors we approached the entire two weeks aboard the boat with flexibility and were not disappointed. We spent time on about ten islands in the Cyclades and the Argo Saronic area before returning to Alimos. The boat was a bit small for 5 people in terms of comfort and a larger boat might have been better with more room and more bathrooms and being able to sail in somewhat higher winds. All and all, it was a wonderful experience and Sailing in Blue can be highly recommended."
Bob Parker – USA
Dear Georgia,
I would like to thank Sailing in Blue company for fantastic holidays in April-May (Athens-Aegina-Poros-Epidaours-Methana etc).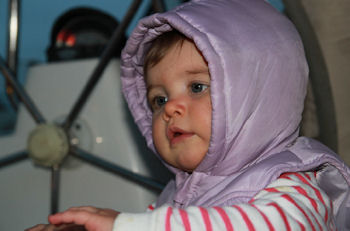 We really enjoyed the service and the quality of the boat even we had some problems with electricity onboard during our jorney. In general we were satisfied with everything. People from SIB really like their job and do it in the best way. Especially our youngest skipper (just 12 months) was delighted with our trip. Guys, thank you very much again. Hope to see next year.
Dominika, Aleksandra, Peter (team from Russia)
Kind regards,
Alexandra
Dear Nikiforos and Christos October 2010,
I write to thank you and your staff for providing me with a first class yacht, (Molly's – Oceanis 461) for my recent charter.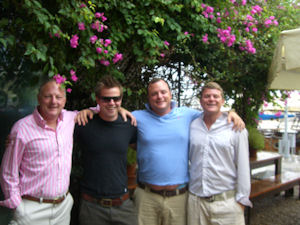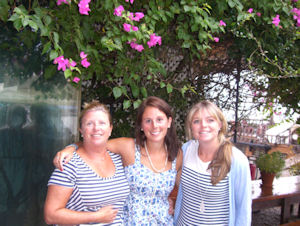 The yacht was very clean and well presented to me, and I was given a comprehensive yacht briefing by Christos.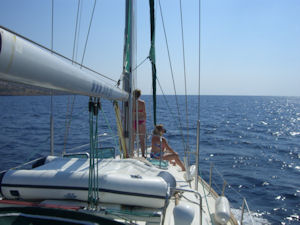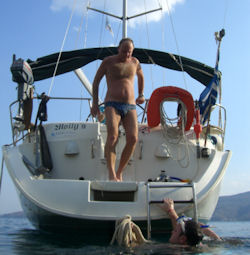 The weather was very kind to us, with only one day of rain over 2 weeks.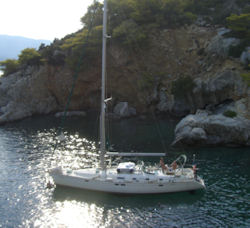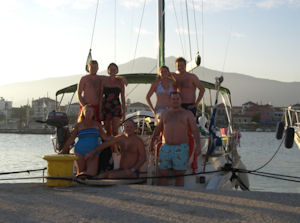 The service afforded to me and my family by SIB was faultless, and we look forward to booking again with you next year
Thank you and best wishes
Kevin Brigden
RYA Ocean Yachtmaster & Cruising Instructor
Dear Vangelis! Sept, 2010
I wanted to say that we all feel that we have to say to you that you created for us a wonderful opportunity to enjoy our vacation especially because of your
warm and nice attitude to us that was transmitted from you to all your employees. It was for me and for all our crew a pleasure to stay on board of your wonderful yacht that was realy a spoiling one and here is the place to appologize again for the damage we caused this beautiful boat and you of course. We send you again a lot of greetings and thanks from the bottom of our hearts! It is important to say that we feel at home with you and that is the reason we hope that we will be able to use your services again next year. I want you to know that if you will once decide to visit Israel you can count us as your hostesses and we will guide you every interesting place in the country and there are a lot to see.
Warm Regards, Amnon Lanir
Israel
Hello dear Vangelis, Sept, 2010
how are you?
We have been very happy onboard Oceanis 440 last August, let have well-know Yiorgos and the his boat Derby (very nice).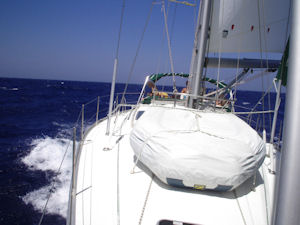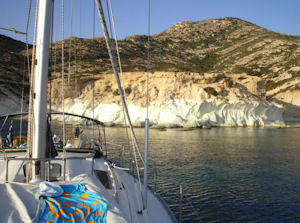 Thank you and see you soon.
Best regards
Anna Chinigher
Italy
Dear Nikiforos,
just a few lines to thank you for your help last week. We had a great time and we really enjoyed the boat holiday!
As attachment I send you a few pictures and here under a short testimonial, that you can use for your web site if you like.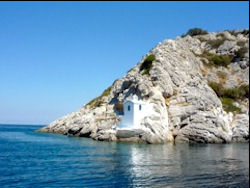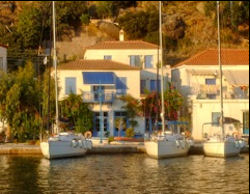 I am looking forward to our next boat holiday, hopefully with you again next year!
Best greetings,
Paolo
SEPTEMBER 2010,
I had my very first rental boat experience last week with "Sailing in Blue" and everything went very smoothly.
Nikiforos was extremely kind and helpful, the boat was good and we had a great time: sure enough we will come back!
Thanks for everything and – hopefully – see you next year!
Paolo Crivellaro & Co. (Italy)
Hello. France – August 2010
We just came back from our holidays in Greece.
Our sailing week has been really fantastic:
– Our skipper "Olivier" has been really nice and helpful
– The boat corresponded exactly to what we expected. It was in good condition and well maintained.
Overall a very good experience and we will certainly recommend you to anyone wanting to rent a boaot in Greece!
Many thanks!
Sacha TIkhomiroff
France,
Hi, SIB, August 2010.
everything was ok so far, besides the small problem with electricity (battery did not charge, plugged into 220 V seemed not to work, but was a matter of switches) which caused us to stay the 1stevening in Lavrion (next day they found the problem).
We could not rent a Spinnaker as the boat was not equipped for it (mast not prepared etc.) – that was a pity as you told us it's no problem!
By the way – The lock of the cupboard in the bow is attached to the wrong side – thus you cannot lock the cupboard!
Best regards
Ulrike Klinka, Wien
—
Dear Ulrike,
Thank you for your feedback. (it is much appreciated).
These small problems are common with brand new boats.. We will take care of those.
You are always welcome.
Thank you again for choosing SIB this year.
Best regards
Vangelis Mourelatos
Dear Nikiforos, Italy – July 2010.
Thank you for supporting us, making it possible to check-out and to leave Afroditi in Naoussa, instead of Parikia port, last July 17th.
Everything was OK, and your services excellent.
Thanks and best regards to all at SiB !
Dario Dalagodi – Italy.
July 2010,
Dear Vangelis,
Undersigned, together with crew will like to thank you and your people for service and support during our very nice week on Aphrodite in week 26.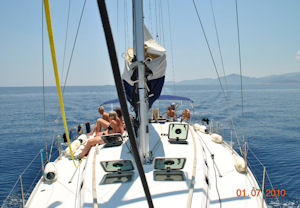 As our previous tour in 2008 on a SIB yacht, everything onboard was in good shape and order and no problems whatsoever occurred.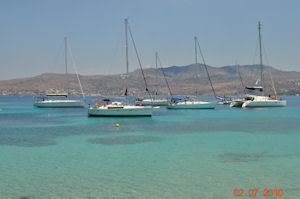 Our trip this year was again scheduled to be between the Saronic Island. We managed to visit more or less all of them. The only negative thing to be mentioned, is that we had hardly any wind, and consequently we have to run engine quite a lot.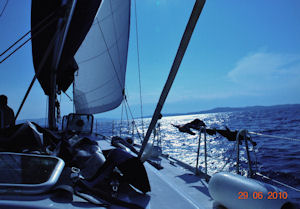 Our next sailing trip is not yet scheduled, but we will love to come back as soon as possible and sail with SIB again, maybe on the West side – Ionian Sea.
Best regards to Christos and Nikiforos.
Best regards
Espen Børhaug & Crew
PS! Attaching a few picts for you.
Dear Vangelis, June 2010,
We have now just spent our first day without Molly's (Oceanis 461) and are missing her already!
Everyone who sailed with us had a fantastic time and all are ready to sail again next year.
Many thanks for making our trip so easy – Nikos was fantastic to us as usual, nothing was too much trouble for him during our changeovers, so please thank him again from us all.
It was great to see you in Lefkas, I hope your season goes well and thank you very much for the champagne – it made Lynn's birthday!
Will be in touch as soon as we know our plans for next year.
Warm regards and many thanks from Liverpool.
John, Lynn Farrel and all our crews xx
U.K
May 2010,
Vangelis,
Hey I wanted to thank you for the 2010 Bavaria. Nicest sail boat I have been on!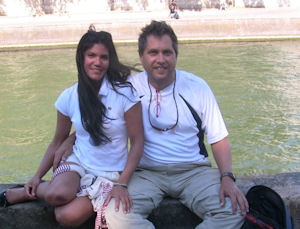 We had a good time and Nikos was great! Good sailor and easy to get along with. The whole thing was "fantastic" as Nikos (Skipper) would say.
Scott Esparza,
Puerto Rico, USA
Hi Marina October 2009,
I have no words to express my satisfaction with the holiday. The entire crew is impressed with the quality of the yacht and
professional approach to service.
I wish you further success unions.
Please thank the whole team SIB.
See you at the next voyage.
Best regards
Sobolak Wojciech, Poland
Dear SIB Staff, October 2009,
We like to thank you for our wonderfull holiday by your organisation. We had a great time with a beautifull boat (thank you Andreas) and luckely we had very good warm weather in October! We are happy that we made a lot of pictures to remember this holiday for a long time.
We really can recommand you to every body!
Warm regards,
Marco and Diane Broek
The Netherlands
Dear Vangelis, August 2009,
Our holiday in Corfù was very nice: the boat was small but fine, the weather nice and I managed to stay away from crowded spots as much as I could.
I stopped only two times in a harbour (Lefkas actually), and both times for only half hour just to buy food and get water.
But the two central weeks of august are very crowded anyway: I was surprised to find boats in some small, beautifull coves usually considered uncomfortable from most of the boats.
I have never had a night alone….But we enjoyed our cruise very much anyway!!! Lot of sea life also!!!!
I hope you had a nice time too!
Many greeting also from Luca and Sandro and thank you once again for all your help…..
Betta Agosti
Italy
Dear Vangelis and Marina: July 2009
I want to thank you for the great service, great boat and wonderful trip that we have just returned from. It all came together on amazingly short notice thanks to your suggestion, willingness to accomodate my desire for a Lavrion departure, and the provision of a first-class boat. Iokasti was by far the nicest yacht I have chartered and it was a pleasure to sail in her.
As this was my first time in those waters, I had some trepidation about what we might experience. As it turned out, I had nothing to worry about because you had taken care of all the details and made it all easy. I view this trip as a mere taste of all that Greece has to offer and can't wait to come back for more. Next time we will plan ahead and bring some friends!
I also sent a note to Diederik Willemsen who steered me to your company. I am sure you will acknowledge the important role he played in making our trip a success. He is a great ambassador for sailing in Greece.
Thanks again–until next time!
Mark Metzdorff
USA
Dear Vangelis, June/July 2009
it was good to see you again in Lefkas.
We would like You to know, we really appriciated to sail in the 46 feet Molly´s.
One day it was blowing up to 18 m/s – and it was still very comfortable to sail Molly´s.
The speed was then 10 knots. It was a great fun.The ladies was not sure if we would be able to handle the big boat. But we soon found out, this was not more difficult than to handle a 34 feet boat – but much more comfortable. We do thank for Your great kindness, to let us sail in Molly´s. We also thank You for the great faith You show us.
We hope You will get a good season, despite the CRISIS.
all the best wishes
from Jytte, Susanne, Poul and Lars
Denmark
Dear Vagelis, June 2009
We have safely returned home from our wonderful trip to Turkey and Greece. In Marmaris clearing in was simple as they have now changed the procedure……Fotis has done a wonderful job, always helpful, friendly and efficient.
The way he handled the problem with the damaged motor was excellent, although the incident naturally hampered our sailing plans to some extent.
Nevertheless, we had a wonderful holiday and everybody has happily returned to Switzerland.
Kind regards from
Rolf Amser
Switzerland
Dear Vagelis June 2009
Everything went smoothly and your organization was more than perfect as usual. The taxi driver came very punctually and was very friendly. Thank you so much. Hope you got your towels back. I packed them seperately in your plastic.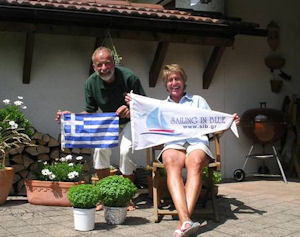 That's all for the moment. I'll send more fotos when we have settled back and normal everyday is running again.
Lots of love and a warm hello to Marina as well.
Beryl and Urs, Hello from Switzerland/Elvetia
Hi Vangelis, May – June 2009
Yvonne and I returned home to a very wet and cold Wellington last week after having had an absolutely fantastic 6 week adventure in the North and South Ionian seas. We completed our plan to sail south to Kalamata then north to Erikoussa visiting the towns, villages, anchorages, sampling the food and experiencing a whole range of sailing conditions on the way. In all we covered 860 nautical miles with, unfortunately, about 125 hours of motoring.
Thank you for helping to make this a wonderful experience for us. Thank you also for the upgrade to the Bavaria 33, it was a great yacht and home to us for the 6 weeks. Pass our thanks also to Nikos in Lefkas who looked after us really well, nothing was too much trouble for him.
Sitting in front of a heater here at home thoughts drift towards the warm days and nights, good food and great sailing breezes in Greece. Soon we will be opening the Greek Waters Pilot again to start planning next years adventure.
Best wishes
Neil & Yvonne Armitage
Wellington New Zealand
Dear Vagelis, June 2009,
Once again, we would like to thank you for securing a great holiday in Greece for us. During the many years that we charter boats from you, we always enjoy outstanding service from your friendly and competent crew of co-workers. Your boats are always comfortable, well-equipped and flawlessly prepared. Particularly we would like to thank you for the amazing surprise you prepared for us this year. The yacht was fantastic and we had a marvelous time with our friends.
Best wishes for you, Marina and the whole Sailing in Blue team. We hope to see you soon!
Grzegorz, Joanna and friends
Dear Vangelis, June 2009,
Back in Switzerland I am glad to inform You that we had a very good time with the "Siora Maria". It's a very good Yacht!
We had always a good weather and a good wind.The region between Rhodos and Fethye is very nice.
I hope You will have a good summer and I wish You all the best
with kind regards
Ueli
Dear SiB Staff, June 2009
I'd like to appreciate your hospitality and professional attitude to your customers. Me and my wife spent a wonderful week on board of Ocean Star 56,1. It was a big surprise for us, because we have been informed that you confirmed Cyclades 50,5 for our group.
Yacht was great, skipper Grzegorz Krupa was wanderfull, only wind was too weak.
Thanks a lot, see you on board next year !
best regards
Krzysztof and Barbara Groyecki from Poland
Dear Christina,
Someday we we be chartering again through your company. Our trip to Greece (June 2008) was just wonderful and maybe the highlight of our stay in Europe over the last 2.5 years. Hope all is well for the new year, take care.
Best regards,
Craig Kelly – USA
Dear SiB Staff,
I'd like to appreciate your hospitality and professional attitude to your customers. Me and my wife spent a wonderful week on board of Ocean Star 56,1. It was a big surprise for us, because we have been informed that you confirmed Cyclades 50,5 for our group.
Yacht was great, skipper Grzegorz Krupa was wanderfull, only wind was too weak.
Thanks a lot, see you on board next year !
best regards
Krzysztof and Barbara Groyecki from Poland
Dear Vagelis,
back in Germany I often remember the wonderful time in the Dodecanes islands last week . It was a really great surprise when we arrived in Rhodos and 'Siora Maria' was waiting for us!! Thank you very much.
50 feet for 4 people…..fantastic! Everything was good, the condition of the yacht, check in and out with Fotis, the weather, the wind…
My wife and our friends also enjoyed the time on the yacht and sure we will come back again.
I send you my best wishes,
kind regards
Hartmut Matthiae
Germany
Hi Christina, (Sailing in Blue)
Just wanted to say a big Thank You to you.
We had a wonderful time onboard Sealine 37 last September. Thanks for everything. We hope to see you again soon.
Em and Josh Corrigan,
U.K
Dear Vagelis,
We have been travelling since the sailing last Aug-Sept, (08) so no time. In summary we had a wonderful time especially with Eddie (Stelios) again and would like to do it again.
Until later.
Gary Balke
U.S.A
Hi Christina, (Sailing in Blue)
We had a great time sailing in Sept, (08) in Skiathos. The people we dealt with were professional and helpful when we arrived. The boat was clean and there were no major problems with the boat- the only thing was that the UV protection for the foresail was damaged and flapping around but this did not hinder us and we were able to sail without any problems. Also when we returned with the boat everything was organised with the refuelling of the boats.
So all in all everyone enjoyed the holiday and we will be back in Greece some time soon
Regards
Mark Wilson
U.K
Dear Sailing in Blue,
We have returned to a colder, and slightly wetter England, after a fantastic week island hopping in Grease, and it already seams an age since we were having so much fun. On behalf of myself and the rest of our group I would like to thank you for helping to organise such an enjoyable and successful summer break. Sailing in Blue have been a pleasure to deal with from the start with excellent communications all along. The boat was fantastic and the envy of other charterers along our trip. When we had a small issue with the windlass trip Makis was very prompt to call us back with the solution. Overall an excellent experience all round. I can only hope that we will be able to charter the same yacht from you again in the future.
James Powell – England (September 08).
Hi Sailing in Blue, (Christina),
We rented a Jeunneau 42i "Anerada" in May of this year. We had a really good time and I have started to explore the possibilities for the spring of 2009. A simillar boat, only this time we are considering a trip to the closer Cyclades starting from Lavrion. Could you let me know the availabilities, prices etc? Hope you had a good season.
Best regards
Lars Smedegaard Andersen – Denmark
Hi Vagelis & Christina,
Well, were back to Canada and miss our trip immensly. It truly was a magical experience. The 6 of us had hoped on sailing the Cyclades Islands, but Petros advised us it would be to much sailing for one week and that we should go the other route down to Hydra. He said, "your on holidays, so sail a bit, relax, eat, sail a bit more, relax, eat, your on vacation", so we took his advice and ended up in Hydra as our final destination before coming back to Athens. The island of Hydra must be one of the most unique places in the world, it in itself is truly a magical place!
All I can say is that Petros was absolutely right, he cooked us up a couple of lunches, it was fantastic. Petros was a great Captain, not much of a fisherman though….We put our trust in Petros and were not let down to say the least.
I would also like to thank Christina who I was corresponding with over the previous 6 months before we set sail, Christina was polite, thorough in her information, and once I met her, I realized she was as pleasant in person as she was on the phone.
Our Nautitech 47 was everything we expected and more, you hear about the horror stories of picking a boat from some charter companies only to find out that once you get to port, its not the boat you had actually signed up for……….."Sailing In Blue" was everything they said they were, the boat was exactly what we saw on-line, there was absolutely nothing the 6 of us would have changed, other than having to come back to reality 10 days later.
Once Again, Vagelis, Christina and Petros, thank you for a wonderful experience. We hope to do it again in the future, perhaps Croatia this time.
Cheers,
Rich & Tracey – (June 2008) Whitby, Ontario, Canada
Hi Vagelis,
Everything was fantastic, the boat, Costas was great, the route, the sea, everything simply fantastic! We are very pleased and greatful with all your help and assistance and we'll recommend you to all our friends. My father wants to contact you for further charters, can you send me your phone number? He is very excited and wants to repeat soo
Best Regards
Juan Baques (June 2008)
Palma Mallorca Spain
Hello Christina,
Thanks for the follow up, I did think they were a bit over priced.
I sent Diederik a feedback on our trip with many positive notes about SIB and specifically you and your good work. What a trip. It was simply the best charter holiday that my wife and I have had over the past twelve years. I think your company is right on the mark.
Thank you,
Craig & Susan Kelly (June 2008)
Holland
Dear Christina, Dear Vagelis
Last Saturday we returned from the Dodecanes and it was another WONDERFUL sailing holiday thanks to Sailing in Blue. The yacht "Best Men" was great. 2 little problems came up after we left Kos and we returned to the Marina after a little more than an hour. We left after approx 2 hours maintenance. No problem. We were treated very well.
Just wanted to thank you most sincerely for everything. We are actually thinking of coming to Lefkas next year in June. It might be our last sailing holiday with a chartered yacht…. !!??
Anyway, we wish you another splendid season in business, private and sailing.
Kindest regards to you and I hope my Greek will improve by next year. Feel free to write in simple (!) Greek. That makes me study even more.
Beryl and Urs (June 2008)
Switzerland
Sailing in Blue (Mrs. Manti),
We have enjoyed our sailing vacation in Greece. (May-Lefkas 2008).
On arrival we were surprised that we were collected on the airport by bus arranged bij mr Girkas and on arrival at the harbour at Lefkas we found all provisions at the boat.
Next morning Mr. Nikos Girkas was very helpfull to fullfill al the necessary requirements.
Molly's was an excellent sailing boat. Me and my wife and our sons with their girlfriends have enjoyed their stay. We thank you for the superb organisation and equipment. We promised our selves to come back, if so it will be with SIB!
Regards,
Mr. Ben Tans – Holland
Dear Mrs. Manti, (Sailing in Blue),
beautiful vacation! (May-2008-Kos) I am very happy and I thank the your perfect organization. When I will return in Greek, I will surely turn me to your organization.
Thanks still and talk to you soon.
Best regards.
Roberto Nebiolo Vietti – Italy
Dear Christina,
We have received a warm welcome and efficient service from Nikos in lefkas.
(April 2008).
I have especially appreciated the advices given as regard designing our short tour. He has also been active in checking our needs during the trip. Your representative in Lefkas is an asset of the company.
Thank you for your service and follow-up.
Best regards
Benoit M. France
Dear Christina,
I would like to thank you for your service once more. Please thank Vagelis & Christos too. We had super trip and everything was perfect.I hope to see you soon.
Best Regards
Grzegorz Krupa – Polan
Hi Christina and SIB,
What a magic trip we had in Sept, 2007, thanks to your amazing charter company. We had a brilliant holiday, you have a beautiful country!
Something else, do you sell 'Sailing in Blue' sailing shirts, if you do I'd love to buy one to remember the amazing time we have had! Let me know if you have any sailing in blue or Greek island shirts that I might be able to purchase, again many thanks!
Gillian Ashley-Brown – Australia
Dear Christina,
Thank you very much for the service you offered us while in Greece. The boat was great and we had a really good time. It was very kind off you to let us have the boat for the last night (we are sorry that the mattress got wet as we left one of the windows open). We look forward to seeing you again in the future.
Many thanks
Joanne Glasscock and the crew
Christina and Vangelis
Thank you for ensuring that our holiday in Sept, 2007 was most enjoyable. You provided excellent service and I would recommend Sailing in Blue to anyone wanting to charter a yacht in Greece.Regards
Paddy Waley – Australia
Hi Christina,
Just to thank you, Nikos and Vagellis for all you help with our sailing trip on Sept 2nd. We found "Angeliki" to be a wonderful yacht and got to visit most of the places we had earmarked. hopefully we will be able to come back again in 2008 maybe for two weeks and relax a bit more.We had a cople of small problems that Im sure you can fix for next time. The depth sounder stopped working half way through the trip and the fridge worked only sometimes. i attach o couple of photos for your gallery.
Kind regards
Philip O' Byrne,Ireland
Dear Christina and Vagelis Mourelatos,
A week ago, we safely landed in Kos marina. Sailing in Dodekanese was an excellent experience for our family-crew. We visited several beautiful islands (among 11 only to mention Pathmos, Levithia, Astipalaeia, Rhodes …) and experienced some great sailing, although meltemi was very indulgent. The Bavaria 36 was in good condition and fulfilled all our expectations and demands. We were also highly satisfied with services offered in Kos marina!
We thank you for all support which enabled us to have great holidays and strongly hope to return next year!
With kind regards
Nina, Rafko and family, Slovenia
Dear Christina,
We just want to let you know, that we did have a great sailing holiday the last two weeks. Our boat was very good, we appreciate it that we get a Beneteau Clipper 41ft, instead of the booked Bavaria 38. The weather was great and we really enjoyed all the nice litte towns at the Ionian Island!
We will come to Greece again next year for a sailing holiday of 3 weeks!
We want to thank you for all your help and information and we certainly will contact you by the end of this year for our next holiday.
With our warm regards,
Paul & Ellen, Vivian – Alex de Swart, Holland.
Dear Christina,
We had such a wonderful week on "Angeliki", (Oceanis 411),in lefkas area. The boat was perfectly in order and well appointed for our needs. Nikos was also very kind and helpful. I look forward to another charter with you in the future, as we were very happy with the high level of service of your organization. Best wishes,
Patricia Kinsella
Hi Christina, (Sailing in Blue)
We are back home again. The sailing turn was great and all of my friends are of the same opinion. Especially your people in the marina of Gouvia perform a top job. Small problems at the beginning have been solved properly and in advance. They are very friendly and have a lot of patience with the customers. Give them our best greetings (from the crew of the S/Y Frixos).
We will recommend you and your company.
Best regards
Alfred Buchta, Germany
_________
This will be our 4th year with Sailing In Blue and we can only speak highly of Vagelis and the service his team give. Such a friendly approachable man, our hoildays with your help have been the most memorable sailing experiences we have had. We are so looking forward to our return again in September. My family are always excited to see what surprise boat you given us.I would recommend Sailing In Blue for your perfect holiday
Steve Truman and family ,England
Dear Mr. Mourelatos
Just a quick word to say how much we enjoyed our month on your boat – she sailed beautifully and we had no problems at all. We would certainly recommend your company to others.
Many thanks
Steve Hatch, Oxford U.K
Dear Vagelis,
I just wanted to add my appreciative note to all the complimentary emails and letters you've received based on your company's performance over the years. We were thoroughly comfortable in the boats and loved the big cabin spaces. You gave us plenty of towels, a big help since we swam most of the days. (We couldn't use all the sheets. It seemed like two sets.) Luckily Petros decided we were okay and put in a great performance as chef, child entertainer and backgammon teacher among his other duties. We loved the little towns he took us to especially Spartakhori and Palairos. He advised us not to travel too far every day and he was right to make us scale back on the distances. We saved tons of time and worry about navigation having him aboard.
Charlie and I appreciate the time you devoted to letting us practice the Med mooring system. It was totally foreign to us, but worked great once we learned. I'm glad we didn't have to deal with a crossed chain. Watching Petros unhook someone else's chain that he pulled in Nidri gave me the shudders. He had to climb down onto the anchor, stand on it and reposition the neighbor's chain, then drop the anchor fast. Dealing with that's in the advanced mooring course…a demo was enough!
I am really glad we came to Greece in May. The crowds weren't bad and generally the weather was great. (It rained for most of a week when I got back to Seattle.) Tell Petros I am writing Rick Steves and Lonely Planet to put the Molo restaurant into their guidebooks. And thank him again.
-Susan Stilman, Seattle, USA
Vangeli,
I am also back from vacation and can better reflect on the experience, I can now say It was one of the most enjoyable vacation trips I have had.
The surprise upgrade was most welcome and the sailboat was in excellent condition and performed well under sail and motor with all amenities in top order. The only problem at the end of the one week cruise was that we had too much ice left over ! Andreas and the staff at Kos where very helpful. Captain Max was an excellent choice. As captain he proved to know the areas around Kos and small shores off Turkey very well and was able to suggest many places while being flexible and therefore saved us much time and thus became our on board guide as well. With his careful sailing abilities, local area knowledge and mild and pleasurable temperament, I would highly recommend him to anyone.
From the Sailing in Blue business side of handling this cruise, I can say I was impressed from your first e-mail reply to me many months ago all the wall to you telephone calls to ensure all was going well during our cruise. No problems, all was ready and as per expectations, very easy to deal with and I look forward to a longer cruise in the coming years with Sailing in Blue. One week is just not enough!
Efharisto,
Mike Kontos, Jeddah Saudi Arabia
Dear Vagelis, & Sailing in Blue team,
We had a lovely holiday onboard "Angeliki" and shall look forward to sailing the Ionian again. Thank you for the excellent instructions, teaching us to moor Greek style and for being available for advice during the entire period.
We shall be pleased to recommend Sailing in Blue to anyone wanting to charter a yacht in Greece and look forward to returning ourselves. Next time, 40 ft will be minimum size. The 31 ft boat I race in every Monday in going to look very small when the season starts next week.
Best regards
Johanna H. Jonsdottir, Denmark
Good Morning,
We arrived home on Tuesday evening. We want to thank you for the extra effort you put in to making our stay a good experience. From being on top of the emails while we were delayed to the taxi driver to the extra time on the boat and a larger boat all made quite a different impression than our experience with Olympic Air.
We can't put in words the difference it made. We enjoyed our sailing experience very much. We were looking forward to a different experience than we have ever had as well as a relaxing time. Both expectations were met. The strong winds just added to the memories. Mr. Maroun Masour was a pleasure to spend time with and also went way above our expectations in making sure we had what we needed. In the rough sea I had all the confidence in him. His taking us to shop for clothes as well as taking us back to the airport to try and claim our luggage (it has still not surfaced), and taking us to our hotel were well above what we expected. His knowledge of the islands added more to our stay, we highly recommend him.
Our only regret is that we could not thank you in person. We will speak highly of your service.
Best Wishes,
Liz and Mike ,USA
Dear Molly and Vagelis,
Just wanted to mention that I received a fantastic good report from
Meeghan Tsihlis, she had an excellent time so
Thank you very much 🙂
Cheers and lots of greetings,
Diederik
Hello!
Our sailing holiday was perfect, the stuff in Corfu was excellent, extremely gentle. We are so happy that next year we would like to come back to the Ionian Islands, so as soon as you have the new price offers please let us know!
It has been a pleasure working with you
Best Wishes,
Luca& The Crew, Italy
Dear Vagelis Mourelatos,
First of all thank You very much about the perfect managing our sailing week and the surprise with a brand new boat. The boat was in excellent condition and Mr. Vasilis, a very friendly and competent gentleman, did a professional job. We are planning to contact You at the beginning of 2006 for a similar trip maybe in another region of Greece. With compliments from Vienna and best regards
Friedrich Schönau, Austria
Dear Vagelis and SIB
Please see my father's comments below. We had a wonderful holiday, thank-you for your help organising it. We will recommend your services to our friends.
Kind regards
Comments
Yes, we were absolutely delighted with the boat
The boat was in excellent condition – very clean, and generally very well equipped
It requires better stern mooring lines – condition and type
It requires a much better stern fender
The depth sounder failed – don't know why – we had to fabricate a lead-line
Fire extinguishers should be mounted – not stowed in a locker
We were surprised that there was no holding tank
Overall we had a most enjoyable holiday and adventure – with a few dramas
Margot Gatland, U.K – Australia
Dear Vagelis,
The condition of the boat was excellent.
Your people were professional and competent
When we had problems, and there will always have problems at some point, support was quick and effective.
Not having to clean the boat at the end is much appreciated.
Most importantly, we had a tremendous vacation, we strengthened our family ties and deepened some friendships.
Suggestions for improvement:
More training in the operation of the electronics. The Siora Maria has lots of great safety features. Train your customers in the use of shalow depth alarm, deep depth alarm, anchor drag alarm (GPS), reset of the low voltage alarm, explain the VHF power back-up battery alarm, Explain the Autohelm alarms, Explain the "Bow truster on too long" alarm. It took a few days to master all of that stuff and I am pretty sure I am now probably the only one who knows all of them.
I vaguely remember an anchor ball during the first inventory, I never found it in eight weeks and it is a legal requirement…….
Move the anchor windlass controll to the chain locker.
We put in place a few ropes to prevent the jib sheets from entangling themselves around the dinghy. This worked for us and should probably be improved/up-graded to something more permanent.
I liked the oil lamps on the back deck, it was romantic and the storm lamps work well in lots of conditions. That said I agree that an electrical lamp would also work.
A search light and deck lights would be nice, note that I would have bought them if I really needed it.
Kind Regards and Good Luck with your company.
Frank Mierlo , U.S.A
Dear Vagelis Mourelatos – Andreas and Constantina,
Let me start by saying that my (our) time in the beautiful Ionan waters was one of the best sailing experiences I've had. Thanks to you.
….So…. from the service (or should I say the people) – to the facilities
– to the vessel herself… all topped off by some of the most beautiful surroundings anywhere — I give "Sailing In Blue" the highest marks possible.
I wish you a most prosperous season, and hopefully, before too long, you and I can share an ouzo in a quiet taverna in Lefkas Town.
Best Regards,
Terrence Spaeth, Switzerland
Vagelis,
A big thank to you and your team at "Sailing in blue" apart for some teething problems with a brand new yacht everything went smoothly during both charters. I have been skippering yachts throughout the Aegean over the last 12 years, and "Sailing in Blue" is by far the most friendly and helpful charter company I have dealt with.
Your yachts are always in top condition and have all the extra gear on board, such as GPS plotter, Autopilot, Rollaway main, Navtex e.t.c.
I will see you all again next year with another group from down under.
Your Kiwi Skipper, Alan Inglis (New Zealand)
Since 1988 we keep returning to a little paradise, called the Ionian Sea, a real Sailors paradise with hundreds of little picturesque Islands and beautiful safe anchorages. Each Island has something special to offer. We know Vagelis Mourelatos since a few years now and we are very happy with his boats and his service, an indeed very professional Charter Company. We can't wait to return.
Verena and Henry Young-Stadler, Switzerland